All Glories to Śrī Śrī Guru and Gaurāṅga!
janma karma ca me divyam evaṁ yo vetti tattvataḥ /
tyaktvā dehaṁ punar janma naiti mām eti so 'rjuna //
One who knows the transcendental nature of My appearance and activities does not, upon leaving the body, take his birth again in this material world, but attains My eternal abode, O Arjuna. - Śrīmad Bhāgavad Gītā 4.9
Dear Devotees,
first of all we want to inform you humbly and with great respect:
Under the guidance of Śrī Kṛṣṇa Caitanya Mission's founder ācārya and president Nityalīlā Praviṣṭha Oṁ Viṣṇupāda Paramahaṁsa Parivrājakācārya 108 Śrī Śrīmad Bhakti Vaibhava Purī Gosvāmī Mahārāja, who is the embodiment of Gaura's mercy, Śrī Śrī Rādhā Mādhavajiu's Śrī Jhulaṇa Yātrā Mahotsava will be celebrated from Wednesday, Gaura Ekādaśī in Śrāvaṇa month, 22.08.2018 to Sunday, Śrāvaṇa Pūrṇimā, 26.08.2018. Then, for the 7th time discourses on Bhāgavata, which are like a rain of divine love, will be showered upon Śrī Kṛṣṇa Caitanya Mission's temple at Khantāpaḍā until Bhādrava Kṛṣṇa Āṣṭamī, Monday, 03.09.2018, Śrī Kṛṣṇa Janmāṣṭamī will be celebrated with great grandeur. On the day after Janmāṣṭamī, Tuesday, 04.09.2018, Śrī Nandotsava will be celebrated, then at lunch time will be Mahāprasāda distribution. The maṭha's servants invite all pious, honest and kindharted devotees, to attend with great happiness and enthusiasm the above mentioned holy function along with their families and friends.
- Śrī Kṛṣṇa Caitanya Mission Khantāpaḍā's servants are praying to the pure devotees for a particle of their mercy.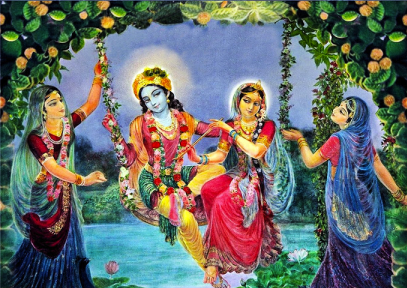 Program:
Śrī Jhulaṇa Yātrā Mahotsava: 22.08.2018 – 26.08.2018
Wednesday, 22.08.2018 (Rājaveśa), Thursday, 23.08.2018 (Gopaveśa), Friday, 24.08.2018 (Phulaveśa), Saturday, 25.08.2018 (Naṭaveśa), Sunday, 26.08.2018 (Śyāmāveśa)
Śrīmad Bhāgavata Kathāmṛta: 27.08.2018 – 02.09.2018
spoken by Śrīpād Kāhnā Dāsa Brahmacāri, every evening 07.00PM – 09.00PM
Śrī Kṛṣṇa Janmāṣṭamī Mahotsava: 03.09.2018
04.30AM – 05.30AM: Maṅgala Āratī, Mandira and Tulasī Parikramā
05.30AM – 07.00AM: Harināma Japa
07.00AM – 09.00AM: Kīrtana, songs and prayers of the mahājanas, Harikathā
11.00AM – 05.00PM: Recitation of the whole Śrīmad Bhāgavad Gītā
06.30PM – 07.30PM: Sandhyā Āratī, Mandira and Tulasī Parikramā
07.30PM – 09.30PM: Cultural Dance Program
09.30PM – 12.00PM: Bhajana, Kīrtana, Mahā-abhiṣeka (grand bathing ceremony), Āratī, recitation of Śrī Kṛṣṇa's birth pastimes, at the end distribution of anukalpa prasāda
Śrī Nandotsava: 04.09.2018
Mahāprasāda distribution at lunch time for all guests
Śrī Rādhāṣṭamī: 17.09.2018
Mahāprasāda distribution at lunch time for all guests
Śrī Kṛṣṇa Caitanya Mission, Khantāpaḍā, Balasore, visit radha-madhava-kunjabihari.net
Hare Kṛṣṇa Hare Kṛṣṇa Kṛṣṇa Kṛṣṇa Hare Hare
Hare Rāma Hare Rāma Rāma Rāma Hare Hare
Vaishnava Calendar
Festivals and Observances